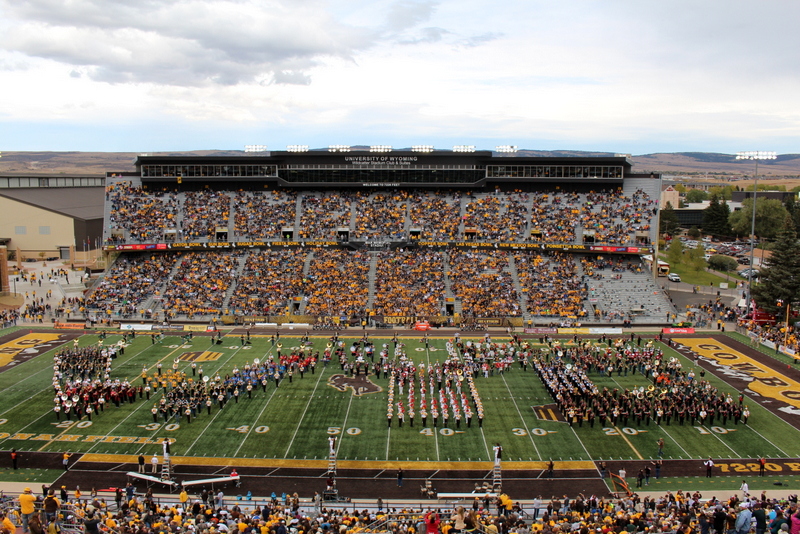 The Laramie High School Band was welcomed by The University of Wyoming to War Memorial Stadium for annual band day on Saturday for the Cowboys versus the Vandals.
This year, the high school and junior high school bands joined the Western Thunder Marching Band for the Band Day. The schools attended rehearsals and performed during halftime of the UW football game.
The music was more difficult opposed to the usual songs that the band at LHS plays says sponsor Chris Olson, "The main objective was to play the music at the highest level we can." LHS would also be playing alongside 13,000 other high school students as well as the universities' band so playing well was of upmost importance.
In preparation of the band day, Olson said "It was fun because we got to play the music that the university played so we got to learn how to play 'Cowboy Joe' and 'High Hopes'." High Hopes was the song specifically played alongside the university.
The event was a success that left many people enticed.
"It's a great event that we get to come together with all the other schools and its pretty impressive to see 13,000 kids all on a football field playing." said Olson.
The Western Thunder perform at every home game and occasionally away games. They host band days for schools in Wyoming and in October host an annual high school invitational in cooperation with the Casper Troopers Drum and Bugle Corps.
The Wyoming Cowboys took on the Idaho Vandals at War Memorial Stadium on the 14th and the Universities' director of bands is Joseph Carver. 
The Cowboys band began in 1913 as a R.O.T.C unit and remained as part of the campus military area until after World War II. The University Bands became part of the Department of Music with the leadership of Professors Edgar Lewis and Charles Seltenrich and served as entertainment for college athletics rather than military ceremonial needs.
The Cowboys beat the Vandals 21-16, showing a promising start to the season for the Cowboys. Player Trey Smith started his college career with a 100-yard game.